In a way, the Keystone XL is just another pipeline transporting oil around North America.  But Keystone XL is also a symbol – of Canada's push to become a petro-state, and of the growing concern re CO2 emissions and climate change.  I wrote on February 2nd about why the pipeline should be opposed, and the reasons have everything to do with politics and little to do with science.  Canada's national government wants Keystone XL because the multinational energy corporations want it, and the government has built its economic plans on a rapidly growing tar sands industry.  The multinationals want it to permit expansion of the tar sands projects, because growth in the tar sands is currently limited by the capacity to ship the product away from there to markets.  Many activists who value the environment see stopping Keystone Xl as a way to stop growth in the most polluting oil industry on earth.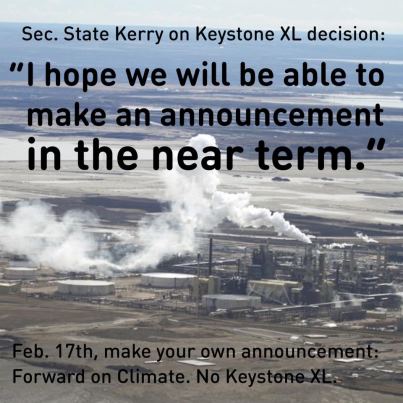 Announcement on 350.org Facebook page
Its possible that the Obama administration could use approval of Keystone as a potent bargaining chip to force Canada to rediscover the environmental responsibility we used to be so proud of.  Have the Harper government articulate a clear plan to EXCEED Canada's Copenhagen commitment on reducing GHG emissions that also permits continuation or growth in the tar sands.  (I say 'exceed' because it is becoming increasingly clear – this is science, not politics – that our Copenhagen target is not strong enough if we are to do our share and keep climate change to under +2oC by 2100.  And Canada is surely wealthy enough to do our share.)  Then approve Keystone, but not before.  As I said, its all about politics, not science.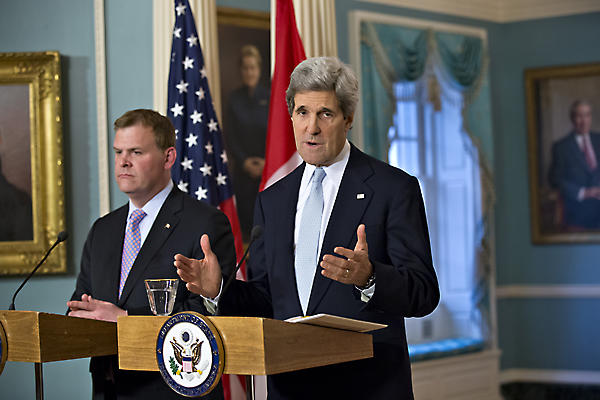 John Kerry explaining the problem while John Baird looks like he's been scolded.
Picture © J. Scott Applewhite/AP
It would have been fun to be a fly on the wall last Friday when John Baird, Canada's Minister of Foreign Affairs, John Baird, met the US Secretary of State, John Kerry.  We are told they talked about Keystone, but not what they said to each other.  They also talked about hockey.  They probably disagreed about hockey given that Kerry is a fan of the Boston Bruins and Baird supports the Ottawa Senators.  They may have disagreed about Keystone as well, but nobody is saying.
The National Resources Defense Council, 350.org, the Sierra Club and over 100 other bodies are planning a major demonstration against Keystone, outside the White House this Sunday.  Some media reports are suggesting the environmental movement is winning this battle.  Others are predicting Obama will finally approve it.  Interesting times.  Regardless of which way this battle goes, Canada needs to realign its economy.  The Canadian people never voted in favor of becoming a petro-state.
Here is information on the rally.  Next post, I'll get back to science.